Diversity
We aim to be:
A diverse company - a company that reflects society. We want to attract the very best candidates, at all levels, regardless of race, gender, age, physical ability, religion or sexual orientation. We always try to hire the best person for the job, and to ensure that our hiring is non-discriminatory. We do not set specific, numerical targets for recruitment or promotion of particular groups, but we place great emphasis on ensuring that the pool of applicants for our jobs is diverse.

A fair company - where pay, retention, promotions and terminations are determined without discrimination.

A company which uses diversity to help achieve our commercial goals and that targets new opportunities in growing markets.
In 2003 we launched a four-year diversity plan. Our goals are to have diversity at the heart of everything we do and to be at least the best in our industry for diversity. Since our last report, we have made significant progress in the following areas:
Promotion:

We have run employee focus groups in a number of our locations to find out more about the barriers to promotion for women and people from minority backgrounds.


Work with our preferred suppliers:

In the UK, where we source the majority of our recruitment through agencies, we have set up a preferred supplier list for recruitment agencies and worked with them to encourage more diverse shortlists of candidates. Between mid-2003 and the end of 2004, the proportion of ethnic minority candidates sent to us in our London-based businesses increased from 9% to 30%. We are now seeking to extend this work to the executive search firms we use.


Internships:

We have quintupled the number of minority summer interns in the US, UK and Hong Kong. The vast majority are keen to work for Pearson in the future and a number have already been hired.


Recruitment:

We have been focusing on recruiting minority students by holding open days, attending careers fairs and working with student societies and university careers services. We have seen the proportion of minority graduates joining Pearson rise significantly over the past year.


Websites:

We have launched new diversity websites for both internal and external users. The internal website attracted 2,500 unique users in its first month. The external website is available at http://diversity.pearson.com.


Training:

We have designed training at induction for our recruiters, our managers and our top executives, and have begun to roll it out across the company. The CEO, CFO and director for people have all had diversity training over the last year.


Senior Leadership Profile:

Our senior leadership profile measures our senior talent against the attributes we think are important to Pearson. Diversity and inclusion form part of this and are an integral part of our appraisals for senior managers.


Community Programmes:

We have evaluated the impact of our community and corporate social responsibility programmes on ethnic minority groups, which confirms our focus on inner-city initiatives and underserved communities mean much of our activity directly benefits people from these groups.


Pay:

We have evaluated the pay of men and women in top management and are satisfied that that we do not discriminate against women by paying them less than men for similar jobs.
Awards
Pearson's diversity efforts have been recognised by a number of awards:
Race for Opportunity Most Improved Company

New York University's Diversity Employer of the Month, January 2005 for Penguin US
Data
We now have very solid data across Pearson which enables us to track the success of our diversity policies. Our workforce looks like this: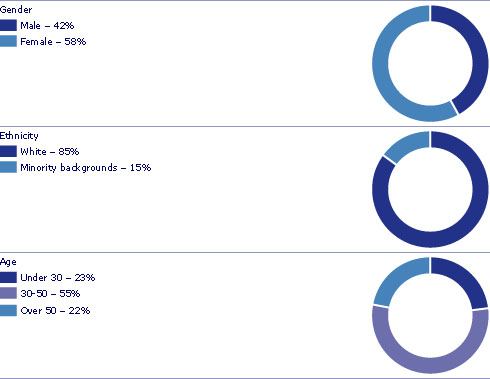 In addition to this headline workforce data, we also now collect the following data:
The proportion of women and minorities in management
The proportion of women and minorities in senior management
The proportion of women and minorities participating in development programmes
Responses to our employee survey with cuts by all these categories
We track progress against our goals by reviewing this data on a regular basis. In addition, we also collect data on our markets.
Goals for the year ahead
Continue to increase the recruitment and promotion of people from minority backgrounds, as well as the number of women in senior management roles.
Improvement in our offering to key ethnic minority markets.
For more information on diversity in Pearson please see http://diversity.pearson.com.